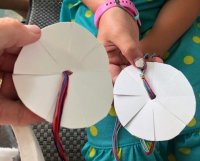 Trace a small circle (we used a coffee cup). Cut a small hole in the center. Leaving approx 1/2" - 1" from the center, cut 8 slots. Choose 7 strands of floss cutting long enough to make a bracelet (plus a little extra). Tie in a knot on one end and put thru the center hole.
Take one strand in 7 slots. From the open slot, count three 'back' or counterclockwise. Take that strand and move it to the empty slot.
Continue this process until the strand reaches your desired length.
Great project for 'kids' of all ages! Enjoy!