Skip Navigation
Website Accessibility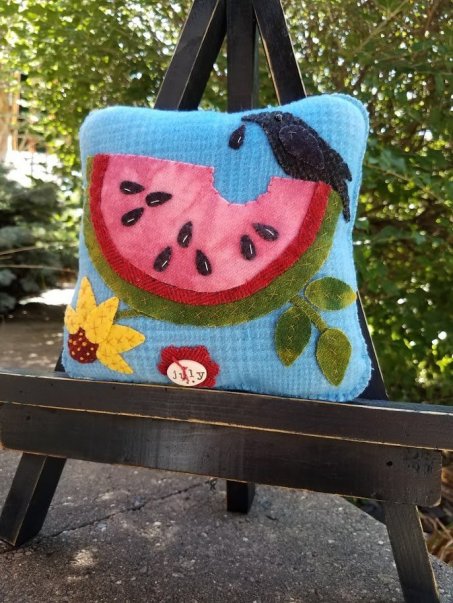 Roseann Kermes of Rosebud's Cottage is a long time friend of Heidi's and is also a wool enthusiast! Roseann first started to enjoy wool during her teenage years when she placed as the runner up in a "Make It Yourself Working with Wool" contest. She then took a step away from wool a few years later when making garments because the tailoring skills were a bit too tedious and she didn't enjoy it. That then brought her to wool and wool applique in the quilting world where she started with the Kindred Spirit patterns that were easier to stitch and didn't need a lot of technique.
Today Roseann still enjoys wool! She's had many patterns published and now she's working with Hen and Chicks Studio to distribute digital download patterns to all of you! These patterns turn into 8inch pillows and are great for beginners who are new to wool applique! Each pattern will be released monthly and July's pattern, Sugar Baby, is already up on our website. Check it out here:
https://www.henandchicksstudio.com/shop/c/p/Sugar-Baby-Wool-Pillow-Downloadable-Pattern-x34858970.htm
Some tips from Roseann:
1. Don't Stress - These are meant to be fun spontaneous projects! Don't worry about matching the colors to make your pillow look exactly like Roseann's! Use fabric you love!
2. Save the Scraps - Wool is unique in the fact you can use every single piece! The edges don't unravel when you cut them, so keep your scraps! You never know when you may need a scrap to make another leaf or berry! And there's nothing worse than running out of a color right when you need it!
Learn more about Rosebud's Cottage on their website at:
https://www.rosebuds-cottage.com/?fbclid=IwAR1D7AeJG34R-lbLfr9WBlYG42ZhtZdRA99KO3p6871pl4VBh5Nwu7iAqC0
You can also follow Roseann on Facebook at:
https://www.facebook.com/Roseann.Meehan.Kermes